It's not all good
In october 1995 Shawn was inside of a car outside of a nightclub in Syracuse, New York waiting for his real life friends The British Bulldog and Sean Waltman (X-Pac). While inside of the car, Michaels fell asleep and this is where between 7 to 11 men beat Shawn so badly it was almost to death.This forced HBK to give up his Intercontinental title. Yet Shawn never refused to let his fans down and when he came back, he came back more popular than ever.

He continued for a while, winning the royal rumble in 1996,and The 3rd Tag Team title reign with Steve Austin.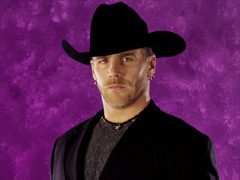 Shawn in his commisioner role.
In the role he occupied until 2000.
Is it all over?
In 1998, after years of punishing matches, shawn michaels sufferered a serious back injury, which ended his Wrestling career. He had surgery and resigned himself to a life outside the ring.
He took on the role as WWE commisioner for a while,and continued to make ocasional appearances on WWE tv until the year 200, when be took a break.
The Comeback KId!!!
On June 3, 2002, live on RAW, Shawn was introduced as the newest members of another controversial faction, the nWo. At this stage it was thought by many Shawn would still never wrestle again, how wrong they were.Luckily for HBK fans everywhere, the nWo folded soon after. Shawn then moved on to another successful singles run, highlighted by a victory a Survivor Series where he captured the World Heavyweight Championship from Triple H. He has since been in more matches, tending to save his strength to put on great performances in just a few main events a year, and you can be sure that every time the fans hear thye opening line of his theme,"Sexy Boy." the chants of H.B.K. are dtill as strong as ever.

Here you'll create or edit a custom page for your Web site.
Use this template for any additional information you need such as products, pictures, fan clubs, links or just more information It's important to change the content on your site and make updates to the information that you display. Doing this will help you to get more return visitors.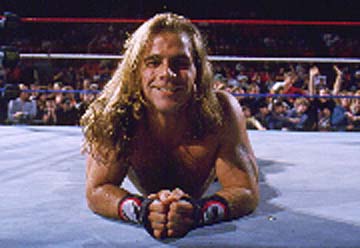 Shawn In the early years.
Shawn showing that winning smile.